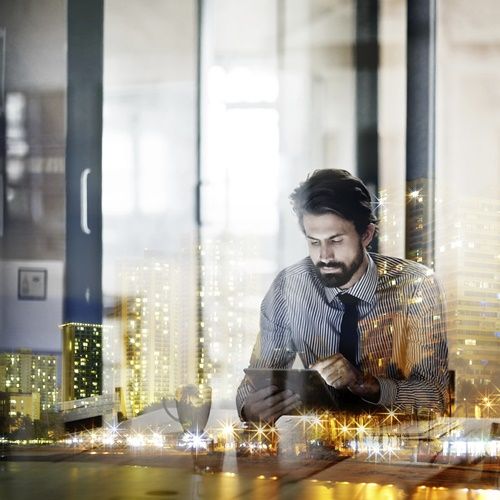 A digital office is a working environment in which information is stored and organised electronically and is easily retrievable.
Document imaging allows users to view a computer-generated image of documents instead of the original paper. While this isn't necessarily a paperless office, it is one step closer to achieving some of the benefits and efficiencies that can come from a paperless office.
However, some people are skeptical about the productivity efficiencies gained by moving to
a digital office. Quite often, this skepticism is due to a lack of understanding of the benefits.
The top 5 benefits of a digital office:
1) Maximise productivity, minimise search time
Businesses don't often realise how much unproductive time spent looking for documents is costing them. 31% of respondents to a survey by the UK's YouGov said that if they weren't looking for documents, they would be spending the time on business development.1
Digital storage means documents that are filed systematically are quick and easy to retrieve. It also boosts productivity by improving the process of distribution, printing and delivery of documents.
 2) Easy storage
We all know this: businesses that don't have room in their offices tend to resort to storing important records in unsuitable places. Digital storage presents a better solution and allows your business to allocate space for resources that are more productive.
3) Accessibility
Digital storage means no more traipsing through file rooms searching for a document that you needed ten minutes ago! Digital record keeping can give all authorised users instant, easy access to documents. This is particularly valuable when a company has multiple premises or when business activity is regularly conducted on the move. The time saved with easy access to important documents would lead to increased efficiency, and could even mean a reduced need for staff, leading to business savings.
4) Better customer service
Digital record keeping allows you to access all customer data easily. This equips your business to respond to customers more proactively and quickly based on the customer's history.
5) Security
Paper documents can sometimes fall into the wrong hands. Having digital documents stored on secure servers reduces that concern. It means that only authorised users are able to access the documents.
Compu-Stor can help you achieve the above results with our customized records management solutions. To see how we can become a powerful tool to boost your business, contact us today
.